Best sellers are popular for a reason, and here are some of the products from ARES Sportswear that you should know about!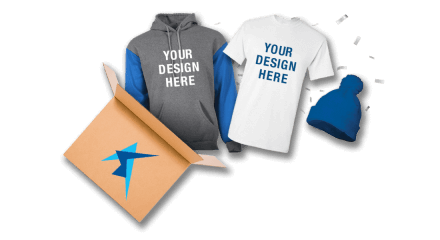 We're all inherently interested in what other people like, especially when it comes to apparel and fashion trends. All of us at ARES Sportswear take analytics seriously for a whole variety of reasons, and we've been able to keep track of which products sell the most throughout our ever-growing client base.
What's great about all the products found within our best sellers page is that they're great for athletic teams, school groups of all types, professional business teams, events, and just about any scenario in which large orders of custom apparel is applicable.
Below we'll be detailing some of the most popular products found within our best sellers page so you can have a better idea as to why these particular products are so popular!
This is a really great t-shirt for any sports program that's looking to provide practice shirts or other types of spiritwear. It's a very lightweight shirt coming in at just 5.5 oz., and the polyester cotton blend creates Gildan's patented DryBlend technology.
The moisture-wicking features found within this shirt will allow your athletes to stay cool on hotter days while not completely soaking themselves in sweat. And with over 20 color options, it's no wonder that this affordable t-shirt is one of our best sellers!
This popular long sleeve from ARES is 100% pre-shrunk cotton and only weighs 5.2 oz.
We've made sure to go above and beyond with this long sleeve option and provide taped neck and shoulder seams along with high-quality cuffs. This is an extremely comfortable long sleeve tee that's great for athletes during the fall and winter months, and our heather color options provide a whole array of eclectic design opportunities!
Under Armour has become one of the leading athletic apparel brands in recent years for their quick-drying fabric that also provides a comfortable, natural feel. There's absolutely no denying that this is one of the top athletic t-shirts on the market today, and all of us at ARES Sportswear see exactly why the Locker 2.0 Tee is one of our top selling t-shirts!
With this shirt, it's all about the material; however, our design team will make sure that your logo and customization looks absolutely fantastic. This is a great option for any athletic team that's looking to customize their practice and training apparel.
Countless athletic programs need proper warm-up apparel, and we understand how you're likely interested in obtaining an affordable option for this particular set of custom apparel. Your athletes and families are likely spending a lot already on other important pieces of equipment and apparel, so sometimes it's a good idea to cut back on the price of warm-ups while not sacrificing quality.
This warm-up set from ARES is not only affordable, but it's also functional. Your athletes will maintain a full range of motion as they're getting prepped for a game, and they'll look and feel confident as well!
The ARES Sportie Hoodie is 80% polyester and 20% cotton, so it does a great job at keeping players warm during the colder months of the year while also being functional for athletic performance. There are many hoodie options out there that won't quite cut it for athletes as their body temperatures rise, and this hoodie is popular because it provides a great blend of aesthetics and functionality.
Check out the video below to learn more about this popular hoodie:
¼ zip jackets have become wildly popular all throughout the United States in recent years, and this ¼ zip is 100% polyester and features a Moisture Transport System that wicks sweat. The anti-odor technology within this jacket is perfect for athletes that need a functional warm-up during intense workouts on a frequent basis, and what's great about this option from Under Armour is that it inevitably will need to be cleaned less often than similar options.
With seven color options, you're sure to find the right color scheme for you and your team!
Reach Out To The ARES Sportswear Team To Learn More About How Our Best Selling Products Can Support You And Your Team Next Season!
Certain products sell better than others for a reason, and we understand how you're interested in getting the very best of the best for you and your athletes. What's great about working with ARES Sportswear is that you can get some of the best athletic apparel at unbeatable costs, and our design specialists will be there for you to ensure that your team looks awesome next season!
Reach out to us online to get in touch with our team and let us know how we can support you with your next custom apparel orders!