The weather is beginning to turn, and ARES is here for your team's custom hoodies!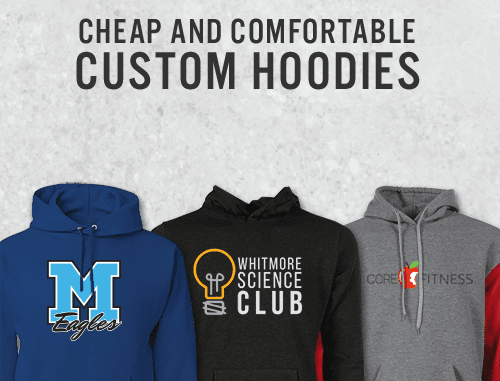 Every November we see a lot of teams, schools and businesses turn to our custom apparel specialists to see what's in store for hoodie season, and we know we're just as excited for this upcoming hoodie season as you are!
Custom hoodies have been wildly popular for many years now, and we know just how important it is for PTO boards, coaches and athletic program directors to get their upcoming hoodie orders absolutely perfect. That's why we've developed this comprehensive guide oriented around the most important factors that you should keep in mind while browsing for custom hoodies.
So here's what you need to keep in mind as you're looking to find the perfect hoodies for you and your unique needs!
1. Choosing The Right Kind Of Custom Hoodies
Although many hoodies may appear to be similar, they're generally far from created equally. That's why you'll need to keep considerations like fabric, style and brand in mind when you're looking through our website.
Hoodie Styles
The two main hoodie styles you'll have to choose from are pullovers and full-zips. As you can probably imagine, the main distinction between these two styles is how you'll put the hoodie on.
Full-zip hoodies are versatile and fashionable, and they can help alleviate temperature when it's a bit warm out. Printing around zippers can sometimes be problematic, and of course zippers can pose other issues as well. Pullover hoodies are generally warmer and easier to print on, but you can't control your temperature like you can with a full-zip.
Hoodie Fabrics
Hoodies are made from many different fabric blends, and today there are moisture-wicking technologies typically made of polyester that are great for athletes. Many teams will want tri-blends between cotton, fleece and polyester, but you'll simply want to keep fabric in mind when determining how you can make the most of your hoodie investments!
Hoodie Brands
We have a ton of different brands when it comes to our hoodie inventory, but some of our top hoodie brands include Under Armour, Augusta Sportswear, Jerzees and our very own ARES Sportie Hoodie.
Every hoodie brand offers something unique, so our industry specialists will be there for you when you have questions about what differentiates certain products from one another.
2. Printing On A Hoodie
There's no doubt about it that you'll have many different print location possibilities that'll accommodate various printing methods when you're looking to customize your hoodie orders. It's important to remember that there always will be potential printing issues and restrictions that can sometimes limit your possibilities, and our general rule of thumb is to keep it simple with hoodie designs.
A common example of this would be if you're going with a full-zip hoodie, because you'll definitely have some limitations around the zipper when it comes to printing.
Screen printing is one of the go-to printing methods for a lot of our custom hoodie orders, and this is because it's a durable, vibrant method that everyone loves. We can also offer direct-to-garment (DTG) printing, heat transfers, dye-sublimation and custom embroidery.
3. Ordering The Correct Sizes
Once you know what hoodie style you want and how you're going to customize them, you'll then need to figure out the general sizes you should get with your order. It's important to note that hoodie sizes will usually match the same t-shirt sizes that people wear.
But of course there are some exceptions to this rule, particularly when it comes to styles, brand and overall fit between women and men's hoodies. Personal style is also something you'll need to take into consideration, because some people like to wear oversized hoodies and others like them more form-fitting.
Although you may be able to get size requests from team athletes, bulk orders for schools tend to go through this type of sizing issue when they're creating massive quantities of hoodies for a bigger community. Just remember that there will always be someone's actual size and their preferred size when it comes to hoodies.
The good news is that the ARES team goes through bulk hoodie orders year in and year out, so we'll be there for you when you're looking to develop the perfect ratio between sizes, styles and specific hoodie cuts!
Reach Out To The ARES Team To Learn More About Our Vast Selection Of Custom Hoodies!
ARES Sportswear has been a hoodie leader throughout Ohio and the entire United States for nearly 30 years, so our team is prepped and ready to help you with your next order of custom hoodies no matter how big or small it is!
Reach out to us online to get in touch with our team and initiate the first steps of your next order!