Everyone loves screen printed shirts, but do you know which type of ink is best to match your team's unique needs?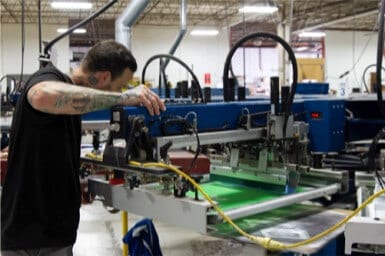 Because screen printing has continued to be incredibly popular in the custom apparel industry, there are now many options when it comes to choosing custom designs.
Our Design Studio is one of the most cutting-edge garment customization tools on the Web, and our experts are always here to help answer your questions when it comes to choosing certain types of ink that'll work best for your team's next orders.
So below we'll be comparing and contrasting two very popular types of screen printing ink: plastisol and water-based inks!
Comparing Popular Screen Printing Inks: Plastisol Or Water-Based?
Just like comparing many other things in the apparel industry, there are several factors that are important when choosing between plastisol and water-based inks.
For example, light-colored shirts with intricate design details are better suited for water-based inks; however, dark-colored shirts with bright design colors may be better suited for plastisol inks.
When it comes down to it, choosing between plastisol and water-based inks is largely a decision that should be made on a case-by-case basis, because every team has unique needs that must be met.
Below are some of the major differences between plastisol and water-based inks that you should know about:
Water-Based Inks Usually Feel Softer On Screen Prints
Water-based inks are usually lighter and feel softer than plastisol inks, which is often optimal for custom screen printing. The main reason why water-based inks are lighter is because of how they're produced.
Plastisol inks are made from plastic polymers and particles, which makes the ink essentially a liquid plastic. And although water-based inks aren't plastic-free, it's predominately a water soluble that gets absorbed into a garment's cloth.
Plastisol Inks Provide Better Vibrancy For Screen Printed Shirts
One particular area where plastisol inks are preferred is with color vibrancy, which includes saturation and brightness. Although water-based inks do a great job at providing vibrant colors on light-colored shirts, plastisol ink is usually the way to go when you want your team's shirts to really stand out amongst the crowd.
So if you're prioritizing vibrancy with your darker-colored shirt's design, you'll likely be better off designing with plastisol inks.
Plastisol Inks Provide Better Color Accuracy
Because plastisol inks are more vibrant, they also are easier to match with Pantone shades. This can be very important for certain types of apparel orders, particularly when a business requires consistent colors to match existing branding strategies.
Fabric types and shirt colors never matter with plastisol ink printing, because what you see is what you'll get! 
Both Plastisol & Water-Based Inks Are Incredibly Durable
When it comes to how long either ink option will last, you really can't go wrong with choosing both printing options.
However, it's important to remember that custom shirt durability is also contingent upon how a wearer treats their apparel. Proper treatment and maintenance is important for every custom shirt, especially when it's a shirt you'll be wearing during practices and other intense training sessions!
Contact The ARES Team To Learn More About Our State-Of-The-Art Screen Printing Inks!
ARES Sportswear has been on the cutting edge of the apparel industry for nearly 30 years when it comes to custom screen printing, so we've seen just how far screen printing inks have come over the years.
Our expert designers are just a click away, so feel free to contact us online to get in touch with us and ask us any questions you have about how we turn your t-shirt dreams into reality!